Our Sponsors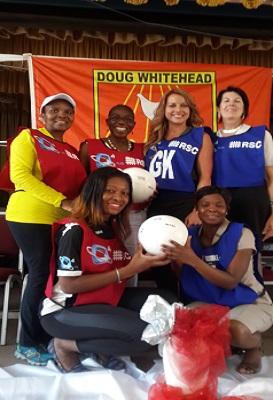 Extract from the Thabo September Foundation website:
"I'Mpossible together with Thabo September Foundation spent a day with Doug WhiteHead School today where they handed over sports equipment donated by both parties. Amongst this handover event was Izelle Hoffman of I'Mpossible with Ninii Mavava representing Thabo September. Sports kits were handed over to the school principal and in attendance were students from Doug Whitehead School and their teachers.
The children were cheering for I'Mpossible and Thabo September Foundation for we are no strangers to the school. Thabo visits the school on a regular basis and the students know him. One of the students once asked him "Why did you remove your dreadlocks?" and they had a good laugh about it.
Apart from handing over the sports equipment, because we care for the environment, we planted seven trees at Doug WhiteHead School and this is not a once off project. "We will continue supporting the school in every way for we believe nothing is impossible" says Izelle Hoffman."